Obscurity has been one of the hallmarks of the NBA franchise born as the Buffalo Braves in 1970, which later became the Clippers. No player personified that anonymity more than Braves star Randy Smith, who died Thursday from an apparent heart attack at his home in Connecticut.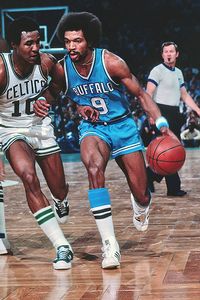 Randy Smith: Buffalo Soldier (Dick Raphael/NBAE via Getty Images)
Smith was drafted in 1971 by the Braves out of nearby Buffalo State, where he starred not only in hoops — but soccer and track and field. He was the 104th overall pick (to find Smith's name, scroll down, then scroll down some more). Although Smith was regarded as a top-flight athlete, the expectations that he would ever develop enough of a pro game to stick around in the NBA were low.
Author Tim Wendell has just written a comprehensive history of the Braves titled Buffalo: Home of the Braves, filled with tons of interviews and anecdotes. Wendell describes the early conventional wisdom on Smith, and the improbability that he'd ever amount to anything in the pro game:
At first glance it was easy to underestimate Smith. Despite his athletic ability, he was so soft-spoken that his manner often bordered upon the laconic. Even though he was considered the greatest athlete in Buffalo State history, the school wasn't a stop with many scouts. In fact, Smith won national honors for his soccer ability rather than his basketball play.

… During his senior year at Buffalo State, Smith didn't show as well as in his junior year. Most of his scores came on drives to the basket, which most scouts didn't think would happen with any regularity in either professional league – the NBA or the rival ABA …
How does an underestimated seventh round pick give himself a chance to make it? He works his butt off:
Most scouts felt Smith lacked a dependable jump shot. So, in the weeks before the Braves' training camp at Paul Snyder's resort in Darien Lake, New York, Smith worked to develop more confidence in it. He realized he was releasing the ball well after he jumped in the air — too often on the way back down the floor. Before attending the Indiana Pacers' rookie camp, one of the few invitations he received from the rival league, he reworked the mechanics of his shot. After that Smith started to let the ball go on the way up. Right away Smith saw his jumper had better arc and rotation.
One of the recurring themes of Smith's career was a tireless devotion to refining his raw game. Hall of Fame coach Dr. Jack Ramsay was a formative influence for Smith. Ramsay joined the Braves as the expansion franchise's third coach in two years. Initially, Ramsay didn't have much of a roster to work with, but he instantly recognized Smith's potential.
"He was a great athlete who became a great ballplayer," Ramsay said. "He was a player with rough skills, great athleticism, could run like the wind, and jump."
Ramsay recounted one of his favorite anecdotes that captured Smith's gifts:
We had an out-of-bounds play after an opposing team's free throw where one of our big forwards, Garfield Heard, would take the ball out of the net. Randy would position himself near halfcourt, start back as if to receive the ball, foul line extended at that end of the floor. When [Smith's] man came, took one step, Randy would take off. Garfield would throw the ball. I'd say, "Garfield, you throw it and Randy will catch it." Randy would always catch up with the ball. Sometimes the ball would seem to be ahead of him, and he'd go an get it. He was an incredible athlete.
Molding that athleticism was one of Ramsay's many achievements in Buffalo. In one practice, Ramsay, a coach's coach, demanded that the right-handed dominant Smith use only his left hand. "He gradually became skilled at using his left hand and became a more versatile player," said Ramsay. According to Ramsay, Walt Frazier once told him, "I hate playing against that guy."
With his confidence brimming as he settled in as a pillar of the Braves' much-improved squad, Smith — never known for his handle — actually begged Ramsay to let him run the break:
Randy wanted to handle the ball more, and I said, "No. [Braves point guard] Ernie DiGregorio handles the ball." Randy would come to me and say, "Coach, I can make the play!" I said, "Randy, look, if you're me, and you're getting a fast break going … think of it this way: If we're on the fast break, do you want Ernie DiGregorio on the wing, or Randy Smith?" Smith said, "Well, I think Randy Smith." I said, "Right! Ernie can make the pass, and you can make the pass, too. But Ernie can't finish on the fast break like you can." I would pump him up and say, "Nobody runs the fast break like you do." And Randy would say, "You're right coach."
One of the reasons Smith was characterized as soft-spoken was that he had to overcome a stammer in his youth. Smith once told Ramsay that he got hit a lot as a kid. Ironically, Smith ultimately overcame that stammer by hitting himself in the leg whenever he'd struggle to get the words out. "That would get him going," said Ramsay.
Smith finished his career with 14,218 points and is the Braves/Clippers all-time franchise leader in points (by a mile), games played, steals, and assists. But his most notable achievement in NBA history is his consecutive games streak. Between 1972 and 1983, Smith played in 906 consecutive games, a record he held for 14 years until it was bested by A.C. Green in 1997.
The other lasting achievement in Smith's career was his special place as a hero in Buffalo. On Wendell's blog, "Buffalo Nation," he describes that unique relationship between man and city:
Some players only see the world through a prism of their own statistics and accomplishments. Others have no choice but to be a part of team – to be a spokesman for something larger than themselves.

That's how it was with Randy Smith, who died unexpectedly last night of a heart attack. He was the spokesman for the old Buffalo Braves. He not only realized that but came to embrace that role.

"Sometimes I felt like I was the last of the Mohicans," Smith told me during the writing of Buffalo, Home of the Braves. "But I was the guy who was there pretty much from the beginning to the end. I guess you could say I became the institutional memory of that team."

Nobody loved the Braves and nobody loved Buffalo more than Smith. After starring as a soccer player at Buffalo State, the basketball Braves drafted him in the seventh round of 1971 draft. After working on his jump shot and then thrilling fans with his two-handed slam dunks in the preseason, he surprisingly made the NBA team.
The Clippers have no jerseys hanging from the rafters in Staples Center. With Smith's passing, it might be time for the franchise to sew some baby blue threads with a big number 9 to commemorate their most enduring star.
Additional Links:
Latest posts by Kevin Arnovitz (see all)