I've got a Blake Griffin debut post over at TrueHoop, but there was far more to take away from Friday night's performance.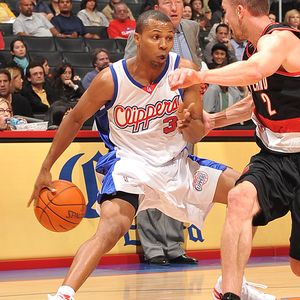 Can the Clippers' second unit make The Jump?
(Johnny Vy/NBAE via Getty Images)
Keeping in mind that the Blazers spent much of the evening working on post sets, there was a lot to like defensively from the Clips. On more than one occasion, small-big combinations such as Sebastian Telfair-DeAndre Jordan, Baron Davis-Chris Kaman, Eric Gordon-Craig Smith did nice work covering the Portland pick-and-roll. Jordan's reads and reaction were particularly noticeable. Foul shooting aside, S/R defense was the weakest part of DJ's game last year. If he can evolve into a big who can use his agility to cut off penetration and funnel ballhandlers to the wings, he's going to be incredibly useful. How were the rotations off the action? Good, not great. What I really liked, though, was the Clips' defensive timing on Portland's post sets. Knowing when and from where to double a big man with the ball is one of those nuances that Top 10 defensive teams handle with aplomb. On a couple of instances, we saw Eric Gordon swoop down from the perimeter and blanket LaMarcus Aldridge, preventing that patented turnaround jumper.

For all the discussion we'll have this fall about who should be starting at the 3 and which bigs should be on the floor together, the Clippers' team defense will be the most decisive factor that determines whether we're watching a 32-win team or a No. 7 seed.
Sebastian Telfair is a terrific backup point guard for this team. With all that's happened since Bassy was drafted by Portland in 2004, it's easy to forget about his preternatural vision for the game. Last night was a firm reminder just how much he can do in transition and in early offense sets. Telfair and Jordan teamed up for one of the prettiest moments of the night — an early pick-and-dive where Jordan quickly spun off the screen and dashed to the hole. Telfair threaded the needle with a perfect bounce pass, and Jordan finished emphatically. On the break, Telfair was devastating — five or six transition assists by my count (Telfair finished with 10 assists in 21 minutes). He's simply one of the best transition practitioners in the league. If you surround him with some horses and a couple of guys who can guard the basket and clean the glass, then the Clippers will have a bunch of second quarter spurts this season … as long as Bassy doesn't shoot the ball (0-4 FG).
I don't like to put too much of a premium on things like body language because there are guys in the NBA who look like killers but don't help you win basketball games. That said, Baron Davis has come to play. He's clearly interested in orchestrating a team offense. With timely passes, he's rewarding guys who can get to the basket without the ball. He chalked up eight dimes in 24 minutes last night.
Blake Griffin's game was as advertised — activity, power, speed, balance, athleticism … and a shaky face-up jumper. Griffin missed both attempts from beyond 15 feet Friday night, and each was uncontested. If the Clippers situate him on the perimeter offensively when he's playing the 3, then one of two things will happen: Either he'll learn to hit that shot and, in turn, command defensive attention out on the wing, or he'll allow defenses to sag down low in half-court possessions, which makes life more difficult for Chris Kaman on the block and Eric Gordon off the dribble.
Kaman's shot looks as pure as ever. He's always been a fairly good shooter when faced up and given plenty of space, but last night, he was able to turn around and square up in traffic and still hit that 15-17 footer. Chris is in great shape right now and he did solid work as the Clippers' basket defender during his 16 minutes of action. He overcommitted a bit on a couple of defensive possessions against Greg Oden down low, but otherwise, he looked like prime Chris Kaman for the first time since the start of last season.
Latest posts by Kevin Arnovitz (see all)