They started out on the same team, if only for one game. Kevin Love and Blake Griffin, two shades of the same basketball color, were teammates on one of the best McDonald's High School All-American teams in history, the 2007 Western team. Time will tell who the greatest player was on that squad: Derrick Rose or James Harden? Love or Griffin? At the time, Eric Gordon was the most hotly contested recruit. Michael Beasley was the game's MVP and a future second-overall NBA draft pick.
But Love carried the most accolades: McDonald's National Player of the Year, Naismith Prep Player of the Year and Gatorade Male Athlete of the Year, among others. Griffin was the Oklahoma kid that won the game's dunk contest.
One player in the spotlight, the other on the fringes of the halo.
***
Love attended UCLA where he teamed with Russell Westbrook for one season and led the Bruins to the Final Four. He was named a consensus First Team All-American and was selected fifth-overall by the Memphis Grizzlies in the 2008 NBA draft, but quickly routed to Minnesota in a trade for O.J. Mayo. Love got to spend that one season in L.A., warm in the Westwood sunshine, before trekking off to front the post-Garnett-era in chilly Minnesota. He was 19 years old, feted, full of promise. So began Kevin Love's basketball odyssey.
Griffin followed his older brother to the local school, the University of Oklahoma, where he was named All-Big 12 and projected as a late-lottery pick as a freshman. He was raw, phenomenally athletic and he just did things differently. Griffin elected to return to Norman for a second collegiate season, one in which he averaged 22.7 points, 14.4 rebounds and 2.3 assists. He led an undermanned Sooners squad to the Elite Eight and swept the Player of the Year awards. As well-known for diving over scorer's tables as for dunks, Griffin was a sensation even before Los Angeles picked him first-overall. He'd be the face of the new Clippers, the city's freshest star.
***
UCLA and Oklahoma never played while Love and Griffin suited up as collegians. They never fought each other for rebounding position, never tried to block the other's shot. No one compared them then, except maybe an NBA scout here or there, scribbling notes in a well-worn notebook.
Love – rebounds, threes. Griffin – rebounds, dunks.
There's more to each player than that, but concise, conventional classification makes a player easier to package, sell or dismiss.
No defense. Hard worker. Power forward.
***

Love landed on a roster with Al Jefferson, an entrenched 6-10 pseudo-star PF/C, and a series of coaches who didn't quite know what to do with the pasty white UCLA product. The house full of amateur medals, trophies, plaques and magazine covers didn't mean anything in the pros. Performance and potential, that's what makes an NBA player.
Coming off the bench Love flashed both, but not enough to break the mold the league cast for him: ex-college star, not athletic enough to really play. This despite the fact that in limited minutes, he averaged 9.0 and 11.0 rebounds in his first two seasons.
That second season, Love toiled under Kurt Rambis, broke his hand and missed 18 games. The Timberwolves finished 15-67. 2009-10 was a dark season, the first of the Kahn years.
It was also supposed to be Blake Griffin's rookie year. Love's stardom was faltering in the dysfunction of a flailing franchise, but Blake and the other young rising Clipper, Eric Gordon, were set to forge a new path and lead their own team out of the muck. Then Griffin's kneecap cracked on a routine preseason dunk. Catastrophe.
Gets injured. Not worth the draft pick.
This time it wasn't scouts taking notes, it was fans of their respective franchises fearing the worst. Same old 'Wolves. Same old Clippers. At least Minnesota fans could keep warm at night watching pixelated videos of the Spanish Pistol Pete, a hoops prodigy their GM promised. There was no such hope in L.A.
Two players no longer on stage. No applause, no plaudits.
***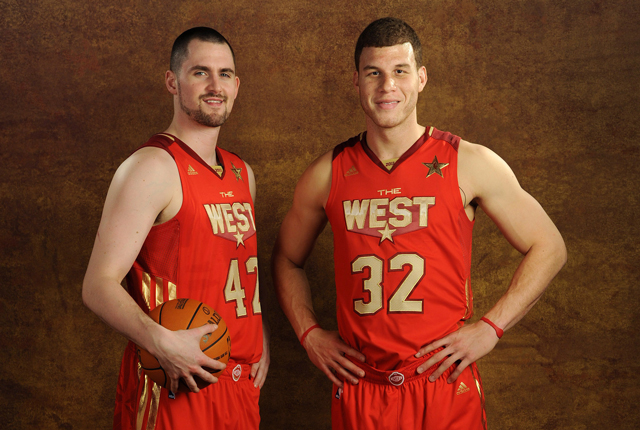 The same age, Love had played two professional seasons by the time Griffin tipped off his first. Nonetheless, 2010-11 was the year both officially arrived as NBA stars. It took Griffin 14 games to invent the verb "Mozgov'd," and the highlight nature of those early days belied his uncanny production.
Griffin averaged 22.5 points, 12.1 rebounds and 3.8 assists as a rookie, only the fourth rookie ever to post such high numbers. He completed the All-Star weekend troika – Rising Star Game participant, Dunk Contest winner (featuring Baron Davis and a KIA), All-Star – and he battled Love for the most double-doubles that season. Griffin was 21 and more than we thought he'd be. We were captivated.
The spotlight settles on one player, performing magic and the audience erupts.
***
Meanwhile, six days before Griffin announced his arrival versus Timofey and the Knicks, Minnesota hosted New York and Love became the 19th player in NBA history to record a 30/30 game, scoring 31 points and grabbing 31 rebounds; a feat not completed since Moses Malone in 1982. He snagged 20 or more rebounds 13 times that season, was chosen as an All-Star replacement for Yao Ming by the Commissioner and finished the season averaging 20.2 points, 15.2 rebounds, 2.5 assists and 1.2 three-pointers per game. And what began as a real competition between Love and Griffin for the "double-double crown" became a one-man show, with Love registering 53 consecutive double-doubles en route to 64 total. The man had a mission, and his mission was rebounds. Rebounds find the hungry man.
***
Two immutable basketball truths:
1. Exceptional performance leads to higher expectations and, inevitably, criticism.
2. A perception doesn't need to be accurate in order to calcify into common knowledge.
Not athletic. All he does is dunk. Gets stats on a bad team. Not a winner.
Another truth: popular opinion is a fickle lizard that often saunters wherever it's simplest.
***

In 2011-12, Love missed 11 games but self-actualized as a basketball player. He finished second in the league in rebounds per game (13.3), fourth in points (26.0), and fifth in PER (25.4). He seemed svelte and quicker, though maybe that's merely popular opinion catching up to reality. In a lockout-shortened season, Minnesota went 26-40, mostly on the back of Love and his sterling new point guard, rookie Ricky Rubio.
Love was voted 2nd-team All-NBA, just like Griffin, whose statistical performance lagged as he played fewer minutes and ceded play usage to his new teammate, Chris Paul, and a veteran-laden roster. It was a strange season, but Los Angeles finished 40-26 and upset Memphis in the first round of the playoffs. Throughout his sophomore campaign, Griffin faced criticism about his style of play, some deserved, some cheap.
The lizard just crawls in circles.
***
Last season would've represented Love's ascension into the true NBA stratosphere, the celestial zone reserved for top-5 MVP candidates, but he lost 68 games to a broken hand. And as surely as he'd seized the spotlight from Griffin, Love faded into the background again. In 2012-13, Griffin also struggled to recoup the acclaim he found as a rookie; floundering under a hot seat coach who elected to play his 23-year-old All-NBA stud 32.5 minutes per game. Griffin earned another 2nd-team All-NBA selection regardless, but a humbling postseason loss to Memphis rendered all personal exploits moot.
Two players facing reality, eying the stage, calculating what it requires.
***

The conventional NBA power forward is longer than Griffin and more "athletic" than Love. The usual power forward has a toolkit of one or two traditional post moves and, perhaps, a steady if unimpressive 10-foot jumpshot. He doesn't drift out to the three-point line, and he doesn't sail over his own players and detonate on opponents. He's a burly bruiser, lacking refinement. Maybe a stretch-4 who lingers in the midrange. But then again, what is a stereotype except a barely useful veneer good for measuring deviation? Was Barkley conventional? Or Dirk? Is Garnett an old-school, butt-on-the-block power forward? And what in the world was Rodman?
The greats rarely fit the mold, and it's only when you've watched Love swing out to 24 feet and sink another (un)contested three – to go with 14 rebounds! – or when you've seen Griffin spin oddly into the post and flip in a double-clutch layup for the hundredth time, that you realize these are our contemporary greats, coming into their own, entering their prime. As they've always been, they're unusually talented, which isn't a flaw.
***
The season is only 13 games old, but it's apparent Love and Griffin have both emerged from last year's frustrating haze to set the standard at their position. Love, fully healthy, is doing what we thought he'd do: 25.4 points, 13.3 rebounds, 4.8 assists. He's playing exceptionally well – maybe better than anyone in the league. Griffin, in turn, is stuffing the best box scores since his rookie campaign, and doing it more efficiently. He's averaging a career high 22.7 points to go along with 10.8 rebounds and 3.0 assists. More than that, Griffin is a more confident, savvier player on both ends. He's growing.
The point has never been who's better, Love or Griffin. The point is that they're taking over the stage, two young, original all-timers, and we'll be watching.