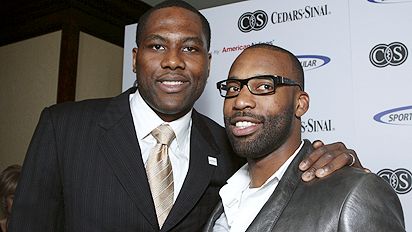 From Jonathan Abrams at the Los Angeles Times:

Baron Davis' agent, Todd Ramasar, told The Times that they have a verbal agreement to sign with the Clippers.

Davis is expected to sign a contract in the five-year, $50-million range.

"From a basketball standpoint it's always been about winning for Baron," Ramasar said. "This presented a good opportunity to do that to pair him with Chris Kaman and Elton Brand is expected back."

The Clippers can't announce any deals until July 9 when next year's salary cap is determined.

The $10M/per number corresponds almost identically to the amount the Clippers clear by parting ways with Corey Maggette. Given the discount it represents under Davis' market value, it also suggests that we should be hearing word of Elton fairly soon.

¡Viva la Naçion!

UPDATE: ESPN reports: "Sources told ESPN.com that Davis, 29, will receive a five-year deal worth an estimated $65 million."

UPDATE: The 2008-2009 NBA cap number projects to be about $58.1M. If you pencil in Davis for $13.5M, that brings the Clippers to about $42M. Also keep in mind that the Clippers have exactly five guys under contract, plus Gordon and Jordan.