Blake Griffin's introductory press conference at the Clippers' training facility on Monday attracted an assortment of media, corporate sponsors, VIPs, and a few lurkers — including Clippers' second-year guard Eric Gordon. Wearing a Clippers' tee and sweatpants, Gordon lingered in the far back of the gym, resting on a training table, as the Clippers' executive team welcomed their #1 pick to the organization. After the official proceedings, Gordon sidled up to the buttoned-up Griffin as the press lobbed questions at both of them.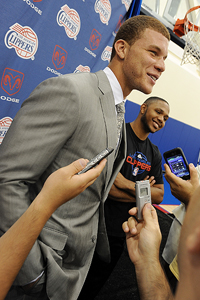 There were times last season as a shy, undemonstrative 20-year-old when Gordon appeared uncomfortable off the court in front of a media scrum. Today, he beamed alongside his new teammate.  When a Clippers' PR rep motioned to him that he didn't have to take questions at Griffin's event if he didn't want to, Gordon was unfazed — that's because he was having a blast as the grizzled vet at Griffin's party. Eric Gordon could finally talk about something other than the burdens and undertakings of…Eric Gordon. All he was asked to address were the prospects of one Blake Griffin — and he couldn't have been any cheerier.
Did he have any advice for the rookie?
"It's a loooong season," Griffin said emphatically. "Looooong. Especially when you're a rookie. You got to think about Summer League, then preseason games. It's long."
While Griffin ceremoniously answered questions about where he might like to live and whom on the Clippers' current roster he's spoken to, Gordon presided confidently as the guy who's been through it all. "I would say training camp is when it all hit me and I felt settled in and knew what I was doing." Gordon said when asked how long it takes a rookie to acclimate to life in his first pro city.
Gordon made a personal no-hazing pledge to Griffin today. "I ain't going to do that," Gordon said. "It ain't my style."
Apparently Mike Taylor has no such compunction. Before Griffin even took the podium Monday, the second-year guard was already on the rookie. "He was out here working out and I was trying to get ready," Griffin said. "He made me go get him a towel."
Although the event was undoubtedly about Griffin, Gordon's presence lent a real-world and unscripted context to an otherwise produced event. Griffin's accomplishments in his rookie year will invariably be judged on his ability to integrate. The Clippers have enough individual talents, they need players who can create alchemy with guys like Gordon.
Griffin seems to recognize that. So does Gordon. Asked how he planned to utilize Griffin in a two-man game, Gordon smiled.
"Throw it up in the air," Gordon said. "That's all, because you know he's going to catch one."
(Photo by Andrew D. Bernstein/NBA via Getty Images)