I'll have more on Griffin's debut over the next several hours. This is what I filed for TrueHoop:
Moments prior to Blake Griffin's NBA debut, the Los Angeles Clippers' brass was lined up courtside, smiling widely like expectant parents. And if the Thomas & Mack Center in Las Vegas weren't a smoke-free facility, they would've been lighting up stogies two minutes into the Clippers' Summer League game against the Los Angeles Lakers.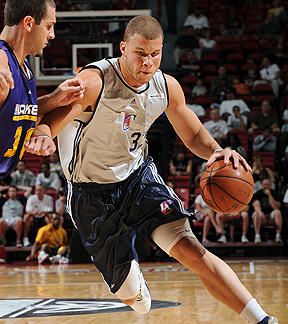 Blake Griffin: Scoring Every Which Way
(Garrett Ellwood/NBA via Getty Images)
Griffin, the Clips' prized rookie and the first overall pick in this year's NBA Draft, delivered seven points in the game's first three possessions. In his first professional set, Griffin hooked up with second-year guard Eric Gordon for a pick-and-roll that resulted in an easy layup for the rookie.
"That should be the bread and butter this coming year," Gordon said. "We're both young guys and we should have a great chemistry."
The Gordon-Griffin connection was just the opening salvo in Griffin's 27-point, 12-rebound attack, but it was a huge relief for the rookie who was antsy to play competitive basketball for the first time since suiting up for Oklahoma in the NCAA tournament last spring.
"I really wanted to hit my first layup to take the edge off a little bit," Griffin said. "I kind of settled down on my jumpers."
You could say that.
Though Griffin hit a grand total of three 3-pointers in his two-year college career, he followed up that first layup Monday night by moving out to the perimeter for his next two buckets. On the Clippers' second possession, Griffin got the ball from guard Mike Taylor, absorbed hard contact from Lakers big man Ben McCauley, squared up and went glass from 15. He bested that the next trip down with a silky 3-pointer.
What got into Griffin?
It might have something to do with the fact that Clippers coach Mike Dunleavy actually stopped practice the other day to implore the rookie to launch the ball when he's got an open look.
"I caught one almost in the same position, passed it up, and he stopped me and said, 'Shoot the ball. I'm not going to get mad if you take a wide-open shot'," Griffin recounted. "So I'm trying to get into that mindset."
Griffin has been plugging away to refine his outside shot. In a league increasingly dominated by power forwards who can do more than just throw their weight around inside of 15 feet, he knows he'll have to develop a face-up game if he wants to live up to his promise.
"The kid's been working like crazy on his outside shot," Dunleavy said. "Yesterday in practice, he hit a twenty-footer, then a 3-pointer to end one of the games, and made probably six jumpers over 20 feet."
Griffin finished 11-of-15 from the field, and those 11 shots came every which way. He worked familiar territory on the right block. He pulled down offensive rebounds and muscled up putbacks. He fired turnaround hook shots. He even ignited a solo, coast-to-coast break to punctuate his performance in the fourth quarter. Granted, Griffin will draw tougher assignments this fall than McCauley and David Monds, but the range of skills the rookie displayed Monday night was impressive.
"He did everything we expected him to do," Dunleavy said. "For a guy like him, it's hard to have a bad game because he plays so hard and does so many things. He's very unselfish and he draws a lot of attention. Tonight, he made the plays to the right people at the right time and got them easy scores."
Along those lines, Griffin repeatedly laid out hard screens for Gordon and Taylor, precisely the sort of grunt work that the Clippers sorely missed last season at the power forward spot. Twice when he got doubled in the right post, Griffin whipped sharp interior passes to open teammates.
On defense, Griffin was the most vocal presence on the floor for the Clippers, playing traffic cop on every defensive set. He let his guards know when screens were coming, and called out defensive assignments in transition.
"I did a lot of that last year in college," Griffin said. "This year I have to step it up even more because it will help me out, and if I talk I'm more aware of everything that's going on around me."
Awareness wasn't a strong suit of the Clippers last season. They finished 19-63, and dead last in the league in offensive efficiency. Although injuries played a measurable role in the team's struggles, their nightly routine was marred, above all, by laziness and a lack of intensity.
Griffin brings no such deficit to the court. If anything, the rookie was overly keyed up for his first game. After his early scoring spurt, Griffin racked up a couple of careless turnovers — a function of playing too fast. As he went back to the bench at the end of the first quarter, the coaching staff had a tip for him.
"Just relax and have fun," Griffin said.