We'll have an idea by Thanksgiving whether the cautious optimism that's brewing in Playa Vista is rooted in reality, but one thing is certain: It exists. And it's more optimism than caution. The Clippers believe they're a pretty good team. They feel like they have as many as 14 rotation players on the roster and that, top to bottom, they have one of the deepest frontcourts in the NBA. 50 Wins? Maybe not, but they're confident they can compete for a 7th or 8th seed in the postseason.
Positive expectations for the Clippers always come with a great deal of elasticity. Fatalists factor 10 losses into every prediction solely because the Clippers are the Clippers. True to form, some outlets are sizing them up as a 60-loss team in 2009-10. But when you look at the rosy end of that broad range of possibility, it's hard to examine this year's team and conclude that a playoff berth is impossible.
There are good reasons appraisals of the Clippers, or any team, vary wildly headed into an 82-game season. Too many variables exist to come up with a simple valuation of the team. For the Clippers, there's not much historical precedent for success. The roster features an assortment of dynamic young talent and cagey (and some injury-prone) veterans — none of whom have played together very much. Chris Kaman and Al Thornton are the only players who were with the team two seasons ago. All that said, there's a curious collection of talent here, strong statements of recommitment and physical evidence that it's more than just lip service.
So how do we apply Occam's razor to all the Clippers' dizzying and contradictory variables? The best we can do is measure the best case scenarios against the worst, the Nación's hopes against its fears.
Today: Baron Davis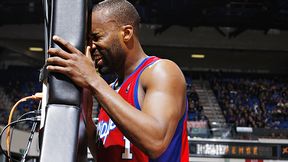 Baron Davis spent most of 2008-09 banging his head against the wall. Is he ripe for redemption this season? (Rocky Widner/NBAE via Getty Images)
Hope: Restoration of a Folk Hero
As recently as two seasons ago, Baron Davis was the NBA's West Coast Cult Superstar, the grown-up NBA fan's Gilbert Arenas. Davis' persona wasn't the product of careful construction or well-orchestrated whimsy. It was an authentic balance between his cool off-court manner and charismatic on-court heroics. He was the catalyst and emotional engine of history's most monumental first-round upset. Although his departure from Oakland was messy, he landed in his hometown with a chance to reverse the story arc.
It didn't turn out that way.
Davis has been nothing if not confessional about his fall from grace last season, a descent that made him the portrait of the Clippers' six-month cataclysm. But as horrendous as he was as a shooter and on-court presence, his efficiency numbers suggest that he was about a league-average point guard with decent assist, rebounding and turnover rates.
So far as the indifference and careless shot selection, these things weren't born out of thin air. Part of the problem was a dissatisfaction with the system, but an equal contributing factor was Davis' health. By his own admission, the explosiveness that fueled his power surge over one of the league's best defenders in that YouTube classic disappeared, which hampered his entire game. What other choice does a point guard have when he can't take his opponent off the dribble, can't run a frenetic break and can't demand a double-team at the left elbow — things he built his career on. The answer: Try to hit at greater than a 35% clip from beyond the arc.
Baron is an unquestionably better conditioned man this October. He seems genuinely mortified by his status as an accessory to last year's debacle. Although he's not surrounded by perfect complements to his game, he knows he can trust Eric Gordon, experiment with Blake Griffin, and have Rasual Butler as a viable option in the corner for a kickout 3. Contrast that to what he was offered at the outset of last season.
Davis' ego is bruised — and that's a good thing. Whatever pleasure he derives from his extracurriculars, he understands that without some corresponding gratification in the league, those accouterments aren't worth much. The documentaries, cross-cultural endeavors and clubs are all nice — but Baron Davis can't be Baron Davis unless he's part of the league's constellation of stars and playing basketball well into May.
Relevance is an alluring motivating factor for Davis, and when motivated, he's awfully good. The narrative is set for redemption.
Fear: It Isn't Attitude. It Isn't Dunleavy. It's Father Time.
Fans tend to believe that a guy's crappy attitude leads to the deterioration of his game, but more often than not, it's the other way around. Think about your own life. When things are lousy at the job, it affects your mood. Sure, there are specific times when you take a crumbling romantic relationship or general social malaise into the office and let it affect your work, but more times than not, professional events dictate professional mood.
Point guards wear down, particularly those whose glory is predicated on the transition game. Baron felt like crap physically last season, and his inability to get to the rim genuinely startled him. How was he supposed to refashion his game just like that? When your defender crowds you because he knows you're harmless off the dribble — something that had never happened to Baron in his 20 years of competitive ball — how are you supposed to respond? How do you grapple with that powerlessness?
As good as Baron looks right now, who's to say these are only temporary conditions? What if this is basketball mortality rapping on the door? What if this is as simple as a 30 year old on the downward trajectory of his career? What if Baron believes that the best way to restore his game is by relegating himself to the perimeter and he displays the same kind of inefficiency we witnessed last season?
If those things occur, what are the chances they'll creep into Baron's consciousness and create a downward spiral? Will he then decide that promises of a more fluid offense were insincere or that his personnel is ill-equipped to play his brand of basketball? That fulfillment off the court is enough to get him through the day, particularly one he spends with a team he's disinterested in?
There's a point in every aging athlete's career when his physical gifts reach their peak and the game becomes more difficult. Some are able to adapt — and even improve — with cerebral adjustments. We hear a lot about it with veteran power pitchers who, when their fastballs lose some bite, develop of repertoire of off-speed pitches that rely on location and movement rather than velocity.
Baron is stubborn — not a bad quality in a willful leader — but it's an instinct and mood that must be tempered if there's any chance for that kind of maturation in his game.
The hope: Baron is pragmatic (and image-conscious) enough to know that moderation is his best route into his veteran years.
The fear: He's wed to a singular persona, one that won't allow for an admission of humility.