I had a chance today to catch up with Anthony Roberson, who was cut by the Clippers on Monday. The life of the journeyman baller is a tough one, and Roberson shares some thoughts about the fight to hang on in the Association. He also gives us a brief scouting report on a Clippers team with which he's spent the last month training.
The entire post is published over at TrueHoop, and you can read some of the excerpts below: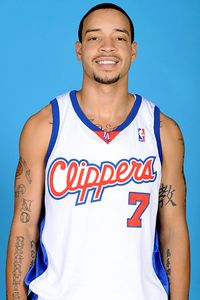 Anthony Roberson was cut by the Clippers on Monday."This isn't my first time around," Roberson says.
(Noah Graham/Getty Images)
How did you learn you were being cut?
After my last practice when I got off the court, the trainer told me that Coach Dunleavy wanted to see me. I knew what it was. I know how it works. This isn't my first time around.
Did he bring you into his office?
No, he told me on the court. He thanked me for working hard, and I thanked him for the opportunity. At the end of the day, I knew it was going to come down to me and Kareem Rush. Kareem is a good player, so it really wasn't a letdown…
Having trained with them for a month, what's your read on the Clippers?
I love the attitude they have now. You can tell it's like night and day — a whole different season and it seems a whole lot better than last year. In preseason, they're playing the whole game every game, from the first quarter to the fourth quarter. They're going to be in a lot of games this season. They have players like Rasual Butler who bring in a different mindset. Everyone in the locker room is looking forward to this year. They know they can play with any team in the NBA, and that confidence is half the battle in this league. They have so much to prove and it's going to be interesting to watch how they get better.
How do you think Baron Davis is going to impact the team this year?
He's a vet and he's playing with a chip on his shoulder — but a positive chip. He's motivated. He knows that as he goes, the Clippers go. He's getting back to the way he was at Golden State. I loved playing with him.
You've played for a bunch of NBA coaches. How would you describe Mike Dunleavy's style?
He's very organized and structured — a veteran coach. You always know what he expects of you in terms of schemes. The things we ran in practice show that he knows what it takes to win. I respect him. He also has that positive chip on his shoulder after last season. He thinks the Clippers are as good as anyone —- and I believe that too. And you can't blame him for thinking that. The talent they have is unbelievable.
What about Blake Griffin?
As good as he is at basketball, he's also a good person. He loves the game. He stays in the gym all the time. He's young, energetic and he's willing to listen and learn. His nickname on the team is "Amazing," because everyday he's going to do something that makes you go, "Whoooaaa!" He's going to be big in L.A.. His upside is crazy.
Can you imagine a life for yourself without basketball?
No. I've been playing since I was five. I just can't imagine it. Can't.