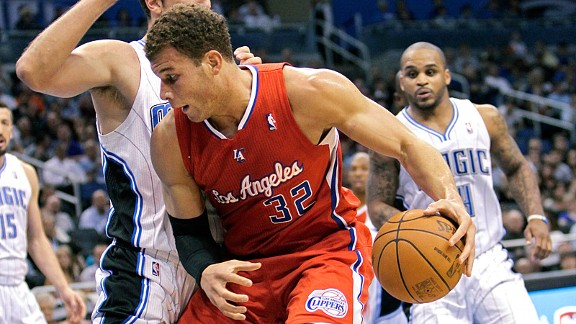 The Clippers edged the Magic 107-102 in an overtime thriller. Our three ClipperBlog contributors discuss the drama in Orlando.

1. The three biggest plays of the game were…

Jovan Buha, ClipperBlog: (a) Glen Davis turns the ball over, leading to Caron Butler making a 3-pointer off a Chris Paul assist to put the Clippers up one with less than two minutes to go. The Clippers never trailed again after taking back the lead.
(b) Jason Richardson misses a 3-pointer, Ryan Anderson misses a tip-in lay-up and Chris Paul secures the rebound, gets fouled and makes both free throws. If either player scores, they could've been looking at another overtime (with a loss almost guarenteed with no centers available). Instead, Clips secure the win.
(c) Ryan Gomes and Butler grab offensive rebounds, leading to Mo Williams free throws (00:39 in OT, 105-102 Clippers). Gomes didn't play much, but he had a crucial rebound.
Jordan Heimer, ClipperBlog: (a) Paul's shot to put the Clips up three with a minute left in overtime. Who has been more clutch than Paul this season? Does anyone looked more comfortable and less rushed shooting with the shot-clock ticking down?
(b) and (c) Gomes and Butler's offensive rebounds on the Clippers final full offensive possession. Welcome home, Ryan Gomes! I don't know a Clippers fan who doesn't want Gomes to turn his disappointing season around. His offensive rebound with 39 seconds left denied the Magic the chance to set up a good final shot, sending the game to its ice-it-at-the-free-throw-line phase.
Michael Shagrin, ClipperBlog: (a) Butler's go-ahead 3-pointer. Down by two points in overtime, Williams took it down the floor (we all held our breath as he seemed to setup for a PUJIT), he dished it to Paul, who hurled a skip pass to Butler on the other side of the floor. Bingo. Clippers don't give up the lead again.
(b) Paul's baseline stepback on Dwight Howard. This happened immediately after Butler's triple to extend the lead. Nobody is supposed to hit that shot over D12, particularly someone a foot shorter than him.
(c) Reggie Evans putback layup in overtime. The first basket for the Clips in OT came on a second-chance opportunity, after Evans rebounded his own point blank miss. This shot gave Evans his season high of seven points.

2. What happened in that first quarter when Orlando shot 68 percent?


Jovan Buha, ClipperBlog: The Magic spread the Clippers thin and dissected their defense possession by possesion. Sure, they were hot (68 percent is ridiculous), but most of their shots were chippies and high percentage attempts. Jordan was forced to leave to Howard to prevent perimeter penetration, which allowed Howard to get dunk and lay-up after dunk and lay-up. The Clippers need to figure out/improve their rotations to say the least.
Jordan Heimer, ClipperBlog: Part of it was just hot shooting — it seemed like the Magic were making everything they looked at from outside. More troubling was the Clippers' pathetic defense against Howard. It wasn't just that Howard was scoring, but how easily he was doing it. There was a lot of talk coming into this game about DeAndre Jordan's improved defense, but tonight his tenancy to over pursue shot-blocks left him out of position more often than not.
Michael Shagrin, ClipperBlog: The Magic only made one shot from outside the key in the first quarter, with all 13 of Howard's points coming from the painted area. The lack of interior defense by the Clippers showed a glaring Achilles heel with the the dominant big man scoring at will. There's not really all that much Del Negro or the post defenders could have done to stop Howard, particularly in light of both the Clippers' centers fouling out anyway.

3. How badly would a prolonged absence from Chauncey Billups — who injured his left Achilles' tendon in the second half — hurt the Clippers?

Jovan Buha, ClipperBlog: It would definitely hurt them, but I'm not sure how much. At best, he's their fourth or fifth most important player behind Paul, Blake, Butler and Jordan (you can throw Mo somewhere in there too). However, if Mo is forced to start, the bench takes a big hit production-wise with Bledsoe still out. If Foye starts? Well, you can fill in the blank. It won't be pretty.
Jordan Heimer, ClipperBlog: If the Clippers are built to absorb any loss for a 3 weeks or a month, this might be it. Not the Clippers won't miss Billups' deadly shooting, but Williams is a former All-Star playing some of the best ball of his career, Eric Bledsoe is healthy again, and Randy Foye, well, Randy Foye was a lottery pick. The back court depth will allow Chauncey to take his time coming back.
Michael Shagrin, ClipperBlog: Between bad and very bad. The aspect of a long-term Billups injury that tilts towards being ordinarily bad is that there are plenty of backup guards on the Clippers who could nicely fit into the starting rotation, albeit with less talent and leadership. The way this injury could be very bad is if Vinny Del Negro can't find a rotation that allows Williams to be the offensive spark with the second unit. Williams didn't have a great game tonight, but his value is immeasurable amongst the offensively-challenged reserves.